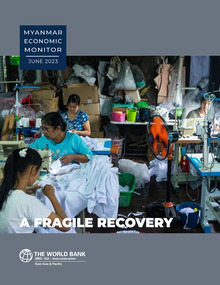 While economic conditions in Myanmar stabilized in the first half of 2023, businesses continue to face multiple challenges, household incomes remain weak, and food security has become an increasing concern, according to the World Bank's semi-annual Myanmar Economic Monitor.
Economic activity is slowly increasing in Myanmar, but from a low base, the report, A Fragile Recovery, says. GDP is projected to increase by 3% in the year to September 2023, a level still around 10% lower than in 2019. Severe supply and demand constraints continue to limit economic activity. Over the next one to two years, the economy is projected to expand slowly, but with the benefits of growth distributed unevenly across households, firms, and industries. Average annual inflation is projected to ease to 14% in the year ending September 2023, from 18.3% the previous year, and to drop further in 2024.
Risks to the outlook include worsening conflict, more slumps in electricity generation, persistent inflationary pressure, and further deterioration in the business environment. The destruction caused by in May by Cyclone Mocha, which caused significant damage in states and regions where humanitarian needs were already substantial, was a reminder of Myanmar's vulnerability to natural disasters.
"While Myanmar is again making economic progress, the growth is unequal and the poorest are being hit hard by consecutive shocks," said World Bank Country Director for Myanmar, Cambodia, and the Lao PDR, Mariam Sherman. "Worryingly, progress against malnutrition seems to have halted or reversed. More than half of households have been forced to sell assets, increase borrowing, or limit their spending, including on health and education. Such coping strategies will not only damage welfare in the short term, but also affect longer-term earning capacity."
The exchange rate has been stable for most of the last six months, inflation in food and fuel prices have eased, manufacturing output and orders have risen, and sales of local products have reportedly picked up. Passenger and freight transport volumes are rising, and although agricultural production has weakened, profitability is improving as farm gate prices rise and input costs ease, suggesting production may be higher in coming seasons. On the other hand, power outages, conflict, and logistics disruptions continue to constrain productivity, while investment indicators remain very weak.
Moreover, with food prices high and ongoing weakness in the labor market, household incomes remain under substantial pressure. Impacts on employment and income have been particularly large in states and regions more affected by the ongoing conflict. The combination of weak employment, fewer hours worked, and increased incidence of casual or self-employed work has reduced the earning capacity of many families. Wages dropped by an average of 15% in real terms between 2017 and 2022 and almost half of Myanmar households reported that their incomes declined over the course of 2022.
As a result, food security and nutrition appear to have worsened during the first half of 2023, with coping mechanisms becoming increasingly strained. According to a May 2023 World Bank survey, 48% of farming households worry about not having enough food, up from about 26% in May 2022. The survey also shows a notable drop in the consumption of nutritious foods such as milk, meat, fish, and eggs.
PRESS RELEASE NO:
2023/091/EAP